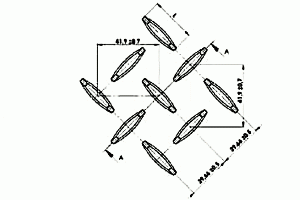 ‌
‌
Sheets with teardrop pattern on surface.
EN 10025-2.
DASZ 141.
Thickness (mm)
Grade
Dimensions (mm)
1000x2000
1250x2500
1500x3000
3,0 - 8,0
S235JR
X
X
X
10
-
-
X
Other sizes of teardrop pattern sheets available based on customer inquiry.
Common use
Teardrop pattern sheets are mainly used like a security floor in a industrial zones, factories, boats etc. Sheets could be easily welded, but there are not suitable for bending. Bend test is only available for sheets with flat surface.