The joint stock company NYPRO hutní prodej, a.s. deals with wholesale trade in a whole range of basic steel materials. The company's headquarters and one of the warehouses are located in Malé Svatoňovice near Trutnov. Its other wholesale warehouses can be found in Prague and Přerov.

At present, the company's staff numbers more than 150 employees.
NYPRO hutní prodej, a.s. supplies rolled profiles I, IPE, U, UPE, HEA, HEB, angle steel, flat steel, wires, reinforcing nets, concrete steel, pipes, closed and open thin-walled profiles, circular steel and, last but not least, a wide range of sheet metal plates, both hot and cold rolled. The average tonnage of ready warehouse stock exceeds 40,000 tonnes. Our suppliers are mills from the Czech Republic and the EU countries; trade with other European iron and steel works is currently developing fast.
NYPRO hutní prodej, a.s. operates a modern three-block steel material warehouse in Malé Svatoňovice with a total covered area of about 6,000 m2.  The warehouse is equipped with bridge cranes with load capacity of 10 tonnes. All of the cranes are fitted with digital scales. On one side, there is a railway siding running through all the warehouse blocks, on the other side there is a road. In the warehouse, there is a cutting centre from Behringer for cutting of  rod materials; there is also a heavy plate cutting machine available.
In October 2008, the company started wholesale trade in a warehouse located in Prague 10 - Hostivař. This five-block warehouse, equipped with modern bridge cranes with electromagnets, is designed to serve customers from Central Bohemia, Prague, and parts of West and North Bohemia. The warehouse with storage capacity of 15,000 tonnes and covered storage areas of 15,000 m2 can satisfy customers with a wide variety of goods. There is also a modern cutting centre for cutting rod materials with a diameter of up to 750 mm and heavy plate cutting.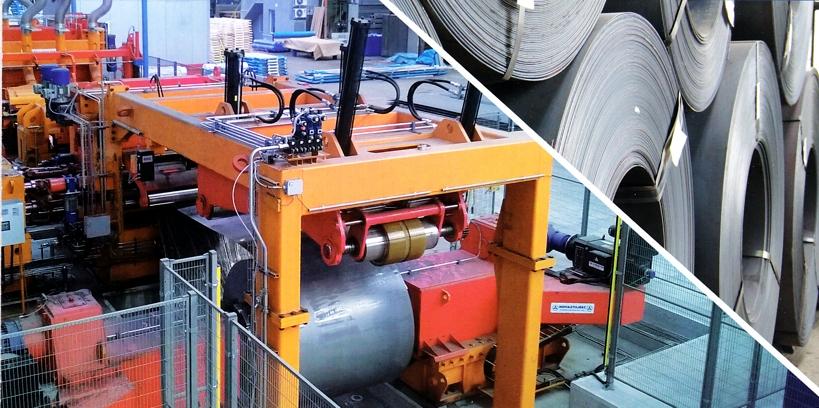 In 2013, a third distribution centre for the Moravian and Silesian region was opened. The warehouse is located in Přerov, on the premises of the former Přerov Engineering Works. It is a six-block warehouse with a covered area of 18,000 m2 and storage capacity of 20,000 tonnes. In one block, a service centre was set up to cut steel coils with a strip thickness of 12 mm. The warehouse is equipped with bridge cranes with electromagnets, cut to length line for steel coils and a crane to handle coils weighing up to 35 tonnes. In one block, there is a railway siding enabling to unload railway carriages directly at the warehouse loading docks. The other side of the warehouse is accessible for loading and unloading trucks. 
At present, NYPRO hutní prodej, a.s. has a wide range of customers from the engineering and construction sectors, and the company's services are also used by many steel material traders. The supplied material is mostly distributed by the company's own transport fleet.